Our systems
As demanded by the Biotech industry, we are a dynamic company with the ability to adapt our hardware, chemistries and protocols to the constantly evolving needs of the market.
10 years ago, our DNA extraction system was an integrated system, based on Beckman's 8-channel Biomek 2000 robot - including a custom-built fixed-point tissue homogeniser, a zymark robotic arm, an automated cool-store and a process scheduler.
Today, our DNA extraction system includes:
-    Modified dual-head Biomek FX Liquid Handler with 96 channel pipetting to ensure uniformity within a plate. A span-8 head gives flexibility for applications requiring cherry-picking.
-    A purpose-built automated tissue homogeniser – designed with linear actuation to maximise uniformity of grinding.
-    Compatibility with centrifuge-based chemistries for improved yield and purity over solid-phase extractions.
-    Capacity for 10,000+ extractions/week.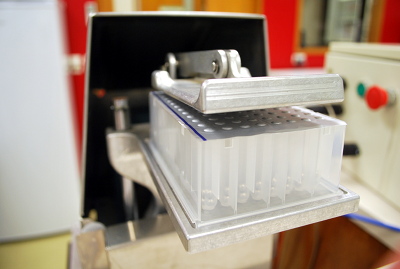 Once purified, we have in-house capabilities to run and analyse a wide range of marker types – the most common of which are PCR-based - HRM, TaqMan, and SSR markers.
As part of our on-going development process, we're currently upgrading our systems to provide GBS-quality DNA from a range of tissue types – watch this space.